We Are Proud Members Of The Recycling Council Of Bc (Rcbc.bc.ca)
We work with the Province of BC, Metro Vancouver, Wastech and Return-It Depots to reduce waste and encourage recycling.
What Do We Do When We Salvage A Hot Tub?
Get rid of your unwanted hot yub in a safe, convenient and environmentally responsible way!
Serving metro Vancouver since 1997.
We recycle and dismantle your hot tubs faster. 
We have specific experience and expertise in handling and disposing of hot tubs. We know how to safely remove the hot tub and know how to handle the various components of the hot tub such as the chemicals, electric and plumbing connections. 
Salvage Value Rebate - Cash back in your pocket.
We are the only hot tub recycling company that gives you the salvage value of your hot tubs. Get paid to recycle your hot tubs!
We do not dump your hot tubs hence you don't pay dumping fees! We are the official partner of the Recycling Council of BC and have established relationships with recycling facilities and know how to recycle what we can and properly dispose of the rest in an environmentally friendly manner.
Hot tub removal specialists typically carry liability insurance to protect you in case of any accidents or damages during the removal process.
We offer full-service packages with upfront pricing, including the hot tub removal and disposal, and site clean-up to ensure we leave your home exactly as it should be. We also takeout gazebos, decking, and any other recyclable materials related to hot tubs. No need to worry about organizing or coordinating multiple services.
Frequently Asked Question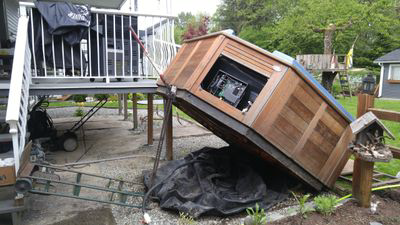 Call/Text Us Today for a Free Assessment We work with the Province of BC, Metro Vancouver, Wastech and Return-It to reduce waste and encourage recycling.