Speciality Movers and Professionally Insured
We move hot tubs within your property or to a new property
Let The Professionals Handle It For You
We take pride in how efficient we recycle your hot tubs.
The hot tub will be disconnected from its electrical and plumbing connections and drained of water. Any chemicals or debris will be removed from the hot tub.
The hot tub will be lifted using a crane or forklift, and then moved to a trailer for transportation. The hot tub will be placed on a dolly or other moving equipment for transportation.
After the removal process, the area where the hot tub was located will be cleaned up and any debris will be removed.
Challenging Access Projects
Crane Pick-Ups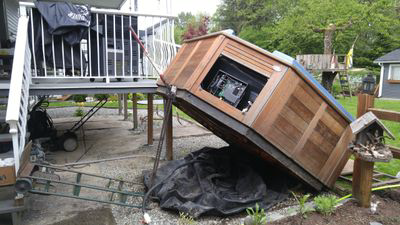 Frequently Asked Question
Common Questions about value and cost:
Call/Text Us Today for a Free Assessment We work with the Province of BC, Metro Vancouver, Wastech and Return-It to reduce waste and encourage recycling.